The Grizzly Route.
Length: 50km
Ascent: ~1500m
Race Type: 5 x Different Loops
Start/Finish Height: 1425m
Highest Point: 1590m
What do you get when you take incredible mountain scenery and add a few sightings of grizzly bears and 1000 crazy ultra runners? The answer, it seems, is the Grizzly Ultra; a grueling 50km race for teams of five, two or those who want to take on the trails solo.
This year myself and Caralyn took on the two-person team and tried to smash it. The course descriptions sounded awesome, although the big problem to start with was how to split the five legs between the two of us. We deliberated for a couple of nights, totaling up the climb, distance, break periods and, in the end opted for Caralyn doing first and third legs, while I had the second, fourth and fifth with the last two the same combined distance as Caralyn's second. This made sense for recovery, time on our feet, and made the split about equal in terms of distance and sort of equal in climb (although I had a couple of hundred more metres with four & five back to back!).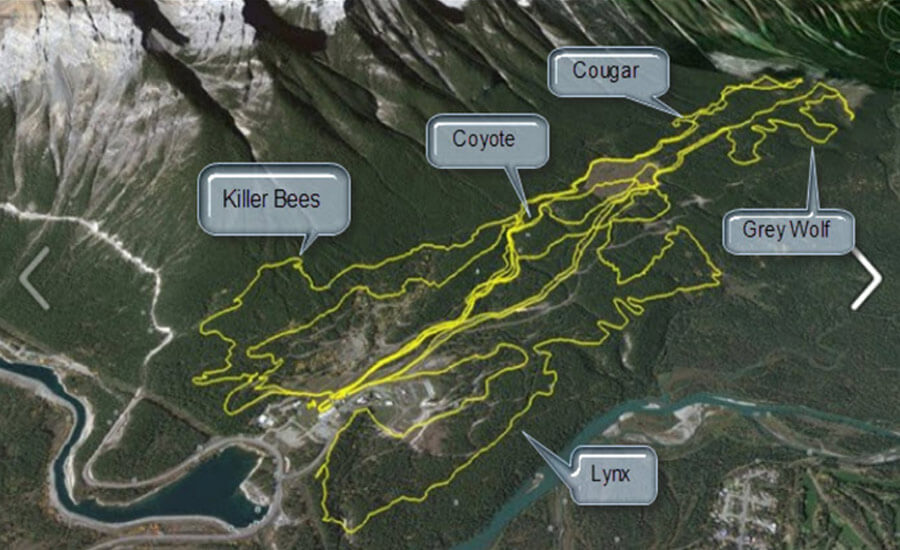 Leg 1 – Grey Wolf – 13.5 km – Elevation Gain 224 m – Difficulty 3 Claws
Leg 2 – Cougar – 12km – Elevation Gain 350 m – Difficulty 4 Claws
Leg 3 – Lynx – 12.15 km – Elevation Gain 435m – Difficulty 5 Claws
Leg 4 – Killer Bees – 6.84 km – Elevation Gain – 270m – Difficulty 2 Claws
Leg 5 – Coyote – 5.63 km – Elevation Gain 215 m – Difficulty 1 Claw
The second problem was that of grizzly sightings. Having spent the summer months in the Rockies, we had experienced everything from bear sightings in the cities, warnings on the big multi-day trails and even seen some on the start line. After all of that, we were still a little on edge, especially after the Nordic Center made bear spray mandatory for every runner. Still, very sensible as with nature, you never know what is going to be thrown your way, be it a friendly looking marmot, or an angry, sleepy bear.
The Start
Having driven in the pouring rain from Jasper the previous day, we had hoped and prayed for sunshine. Staying in Harvey Heights and consuming a large amount of pizza, we were ready to roll come 5.30am on race day.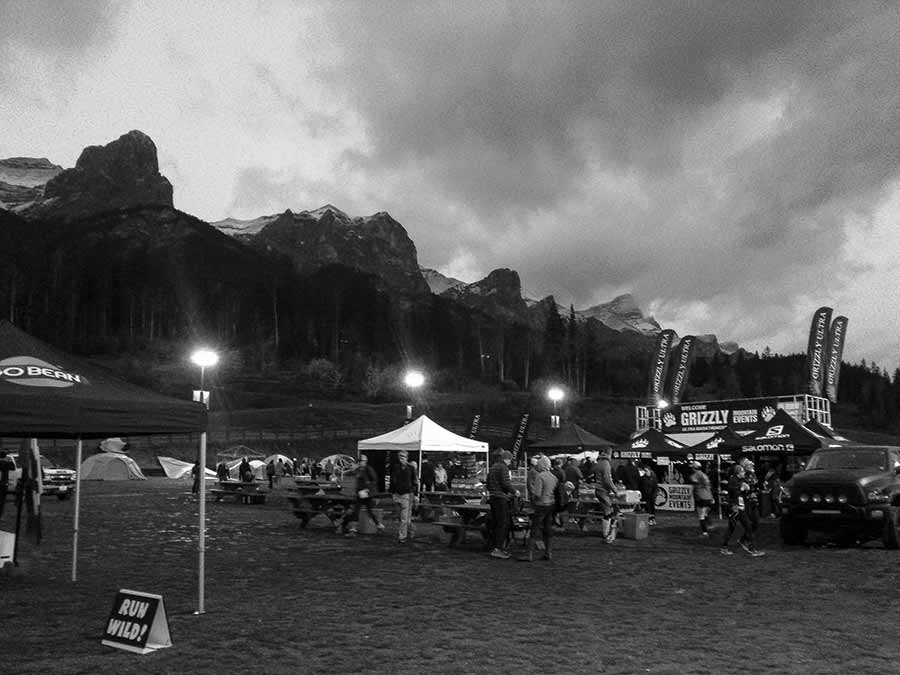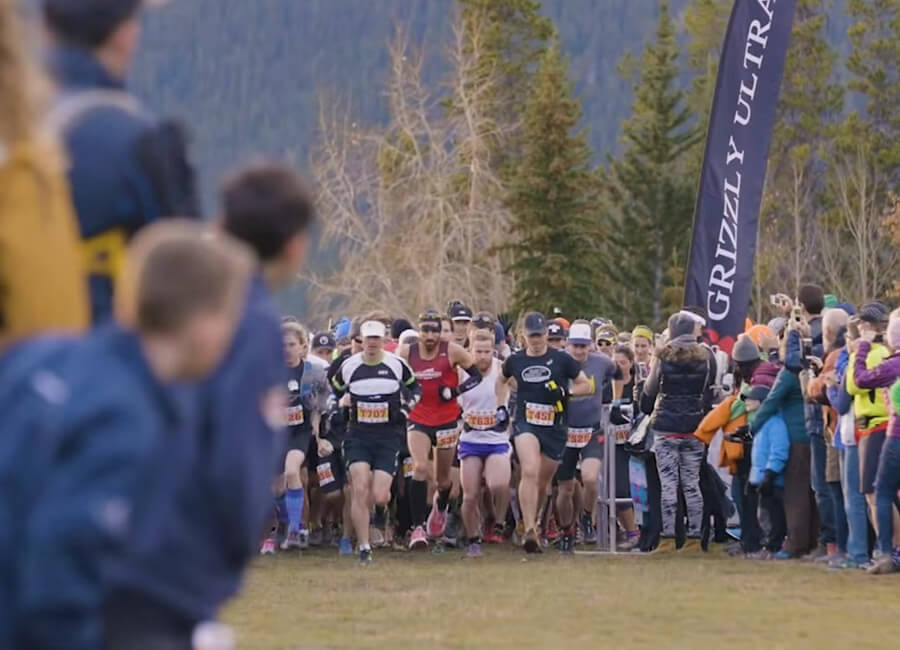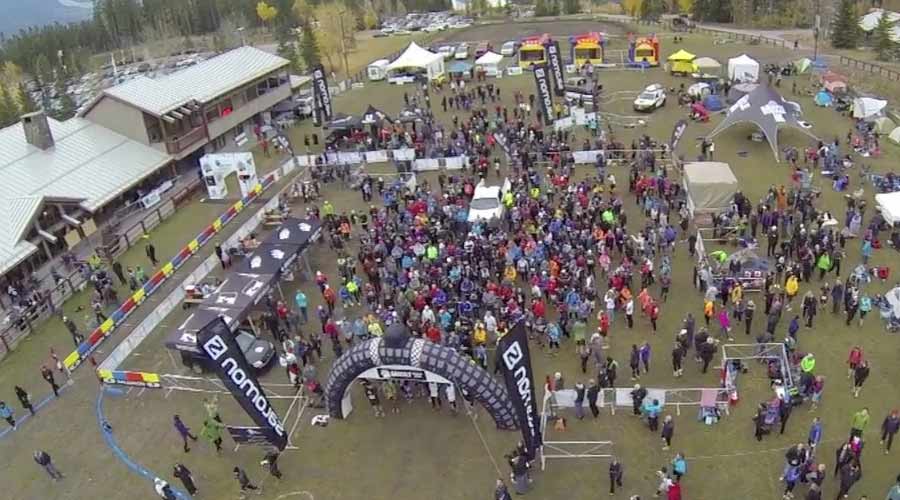 We were all set up, the rain had stopped and we awaited the gun. Caralyn was off first and came back in an awesome time, eighth place in the 2-person teams (and in the top 20 overall), I was stoked and went out on leg 2. She shouted "that was tough" at me as we swapped bags and timing chips so I knew that this 50km race would be a little harder than we originally anticipated.
After running at sea level in New Zealand for the past 5 years and acclimatising to the Edmonton altitude, running at 1500m was pretty tough (!) and the course was not flat by any means; lots of undulations, large hill climbs and after all of that rain, was quite sticky underfoot. Still I managed to race the first half full of energy before the climb back up to the start/finish line, pushing it down the final slope to get the fastest leg 2 time for the '2-person' teams. Job done.
The crux and the final push
After both of us pushing hard early in the race, the altitude and steepness (Caralyn had 13km/435m leg 3 to do) got the better of us. This race was tough, we couldn't contemplate the solo runners coming back through the start finish to go out on yet another loop. Still we pushed on and my Leg 4 was short and sharp; 7km with 250m climb and lots of twists and turns, roots, switchbacks – perfect singletrail.
I went hard but saved a bit for the last leg as I knew another one was coming… in the middle I ran out of steam a little but we cruised into the finish in a very respectable 2nd mixed team and fifth out of the 111 2-person teams that started the race. The support, route marking, crowd cheering, organisation and whole event team were incredible!
The finish
At the finish we were greeted with medals and a stein for our troubles (as well as an awesome Grizzly Events tee!) to show off to those at home. What an awesome event, I'd totally recommend it to anyone wanting to do an ultra. It's an event for all abilities too, not just crazy solo runners wanting to do sub 4 hours for 50km, there were also a lot of racers, runners, joggers, walkers and tonnes of families racing the 50km between five of them – most in fancy dress!
Thank you Canmore for your hospitality and event, we'll be back!
…We also couldn't bear to leave the Icefields Parkway without seeing Bow Lake one last time… this time not in the rain!